Caltrans Alerts Motorists To New 4-Way Stop At Hwys 49-26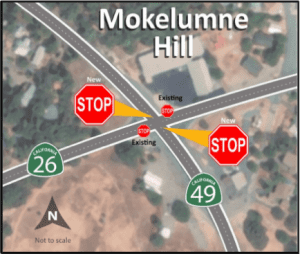 Hwys 26-49 Stop Sign Project

View Photo
Mokelumne Hill, CA – Crossroads at a major Mother Lode highway intersection are about to become a four-way stop.
Caltrans officials say they have slated Saturday as the day when a crew will install of new stop signs on Highway 49 at Highway 26 in Mokelumne Hill. However, since they did not specify exactly what the work hours will be, motorists should be prepared for workers, equipment and trucks at and near the intersection.
Two new stop signs on Highway 49 will join the two existing ones on Highway 26 at the intersection. Also being posted are new "4-way stop" signs and red flashing beacons to alert motorists of the stop ahead.
The installation is described as an interim traffic safety measure to reduce the likelihood of broadside collisions as plans continue to determine long-range intersection improvements at the intersection. Officials say they plan to gather community input to help guide the long-term plan development.