Multiple Vehicle Accidents Across Mother Lode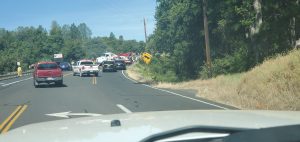 Bus being removed from Tuolumne Road

View Photo
The CHP is on the scene of four reported vehicle accidents this morning across Tuolumne and Calaveras counties, and drivers should use caution in those areas.
On Tuolumne Road, near Cherokee Road, the CHP indicates that a bus has slid off the roadway near Summerville High School. The driver was the lone occupant inside, and no injuries were reported. (Special thanks to community news partner Angel Royce for submitting a photo)
On Highway 120 near Hardin Flat Road a Honda SUV has collided with a Nissan Pathfinder, and on Phoenix Lake Road a vehicle was reportedly hit near the Highway 108 on ramp. There were no injuries.
In Calaveras County, a motorhome has gone into the ditch along Stagecoach Road near Conestoga Trail and it is blocking a portion of the roadway.