Yosemite Honors Employee For Behind The Scenes Impact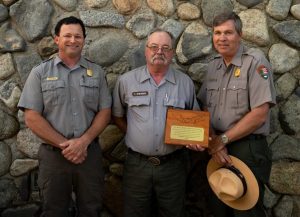 Yosemite National Park Superintendent Michael Reynolds (Right) and Roads and Trails Supervisor Gene Smith (Left) honor Tom Standen (Center) as the Yosemite National Park 2018 Barry Hance Memorial Award Recipient.

View Photo
Yosemite, CA — Tom Standen, a maintenance mechanic in Yosemite National Park, has received the Barry Hance Memorial Award.
Hance was a longtime Yosemite employee who tragically died in 1995 in an avalanche while plowing Tioga Pass. Since its inception, the award has recognized someone who whose labor behind the scenes has had a significant impact on the park and its visitors. Qualities and attributes include team work, a positive attitude and a great love for the park.
Tom Standen has been working with the Roads and Trails division since 2002. The park notes that in addition to being able to drive any type of heavy road equipment with precision, he is an innovative problem solver and skilled welder. He has used his welding abilities to assist with many park improvements, include designing and fabricating a special mechanical claw to help with the installation and removal of bear boxes.
According to the peers who nominated him, "Tom's genuine sense of pride in the impact of his contributions to the park is an inspiration to all who work with him and represents the essence of what the National Park Service strives to stand for."
Standen was recognized at a recent ceremony in front of 400 Yosemite employees, retirees and park partners.