Calaveras Water District Conservation Concerns During PG&E Wildfire Shutoffs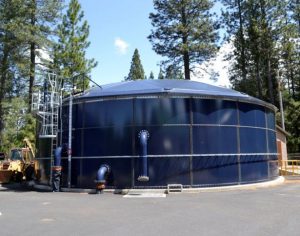 Water treatment plant

View Photo
San Andreas, CA – Calaveras County Water District (CCWD) warns its nearly 18,000 customers that if the power is turned off by PG&E for wildfire danger in the county it will impact service.
If the lights go out due to the utility's planned Public Safety Power Shutoff Program (PSPS), as detailed here, the district will need to conserve energy. CCWD officials explain that its water, wastewater, and recycled water systems rely upon uninterrupted electrical power from PG&E. During a power outage, those systems will rely on back-up generators. To help reduce the risk of that equipment possibly failing, customers will be asked to cut down on their water use.
CCWD adds that a PSPS could occur at any time it is critically important for residents on wells and septic tanks to have a back-up plan.  CCWD provides these preparations for extended outages tips:
Have an emergency supply of drinking water available.
During a power outage, minimize water usage to only critical health and safety needs to help CCWD maintain service to its customers and reduce potential backups associated with engineered septic systems (if applicable).
Plan for medical needs such as medications that may require refrigeration or devices that need power.
Identify backup charging methods for phones and keep hard copies of emergency numbers.
Build or restock your emergency kit with flashlights, fresh batteries, first aid supplies, and cash.
Customers are also encouraged to verify their contact information by emailing CCWD customer service at customerservice@ccwd.org or calling (209) 754-3543.