Preparations Underway To Demolish Former Denny's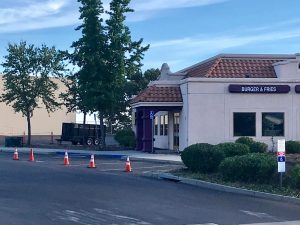 Cones placed around former Denny's Restaurant

View Photos
Sonora, CA — The former Denny's restaurant on Mono Way will soon be demolished to make way for a KFC Restaurant.
The proposal to remove the Denny's in the Timberhills Shopping Center, and replace it with a new KFC building, was approved by the city's planning commission this past September. Kim Campbell with Sonora's Community Development Department reports that building permits for the demolition were issued on June 25 to the company All Around Renovations out of Woodbridge. The owner of the property at 1001 Mono Way is Harmon Directors Investment, LLC. of Los Altos and the project manager is Clifton Sorrell of the San Rafael based firm VMI.
Campbell notes that the demolition is anticipated to begin during the middle of this month, and then construction should start on the new building in early August. It is not clear how long the construction will take to complete. Cones have been placed in the parking spots around the structure as some of the early prep work is underway.