Firm Hired To Help Look At Options For Three County Parcels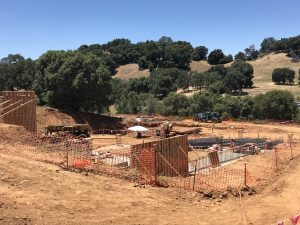 New Tuolumne County Courthouse under construction

View Photo
Sonora, CA — The Tuolumne County Supervisors officially hired the firm Lionakis Architect to help in the process of developing a plan for the three remaining parcels at the law and justice center property off Old Wards Ferry Road.
The contract is for just over $188,000. At yesterday's meeting, supervisor Ryan Campbell stated, "This at least will let us know what our options are with those properties, and then we can make an informed decision about whether we can afford the ideas that are presented."
The firm will help assess future service and staffing needs, along with potential infrastructure improvements. At some point the county may choose to construct additional buildings for partner agencies like the sheriff's office, district attorney and public defender. There could also be space for attorney offices and food courts. Or, the county could choose to sell one or two of the remaining parcels. The study is expected to take eight months to complete.
The firm will develop cost estimates for potential new facilities and outline improvements that would need to be done on Gardella Ranch Road.
The parcels are near the completed Juvenile Detention Center, as well as the under construction jail and superior court.