Sonora City Council Increases Development Fees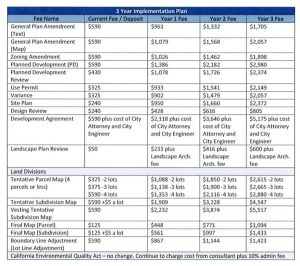 City of Sonora Development Fees

View Photo
Sonora, CA — A gradual rise in development fees will be spread out over the next three years in the City of Sonora, with the first increase set for this coming September 1st.
New planning and land division fees were approved by the city council last night by a 4-1 vote (councilman Mark Plummer was in opposition).
The current fees have been in place since 1998, and the increase comes following a rate study that compared the city to other jurisdictions. We reported last September that the Tuolumne County Supervisors voted to increase fees associated with its planning department by 16.5-percent. In the image box you can see the new fee structure for the city of Sonora. Click here to view how similar fees compare with other regional jurisdictions, such as Tuolumne County.
The increase in development fees was the focus of a myMotherLode.com poll this week where 86-percent stated they feel the move will have a negative impact on economic growth and 14-percent felt it will have no impact. Around 640 people took part in the poll.