Serene And Quiet Yosemite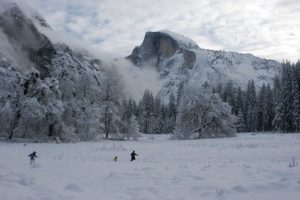 Snow in Yosemite

View Photos
Yosemite, CA – For those wondering when the quietest time of the year to visit Yosemite National Park is….it's the next couple of weekends.
Park Ranger Scott Gediman says the Christmas and New Year's holidays are traditionally the slowest times of the year when it comes to visitor traffic. Because of how serene it is in the park, often times more than normal amounts of wildlife are visible in Yosemite Valley.
"The past couple of days I've been seeing a lot deer, coyotes, and even a bobcat," says Gediman. "You wouldn't think that the winter is a good time to see wildlife, but with fewer and fewer people in the park, the wildlife seems to come out a lot more."
Gediman also notes that Yosemite Falls is in full force right now. He adds that if you do plan to visit Yosemite this weekend, don't forgot to carry snow chains. It is required that they are carried in the park even if the roadways are clear of snow.