PG&E Encourages Customers To Update Their Account Info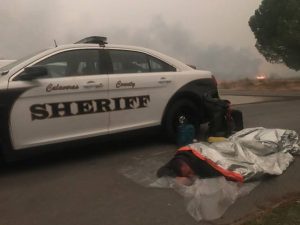 Calaveras County deputy among the responders catches a quick rest in between helping the Butte County Camp Fire efforts Nov 8 2018

View Photo
Sonora, CA — About a quarter-million customers are getting mailbox reminders to update their contact information ahead of potential wildfire safety-related power shut offs.
Pacific Gas and Electric Company (PG&E) is sending postcards, reminding folks who have incomplete contact information on file to update their mobile number, email and other key information, so the utility has ways to provide advance warning of a temporary power turn-off.
"With the 2019 wildfire season now upon us, we all need to be better prepared to stay emergency-ready and to keep our families and friends safe," explains Laurie Giammona, PG&E's senior vice president and chief customer officer. Since June of 2018, officials say that over 390,000 customers have taken action to update their contact details. That leaves about 240,000 who still need to take action.
The utility's Public Safety Power Shutoff program is one of its many new precautionary safety measures within its Community Wildfire Safety Program intended to reduce wildfire threats and strengthen communities in the wake of the state's devastating 2017 and 2018 wildfires.
Officials note that while extreme weather threats can change quickly, PG&E's goal, dependent on weather and other factors, is to send customer alerts through automated calls, texts and emails at 48 hours, again at 24 hours, and again just prior to shutting off power.
Along with ensuring contact information is up-to-date and your home or business has clear defensible space, officials encourage residents to have an emergency plan for wildfires and discuss it with your friends, family, and neighbors; create or update a "go bag" or 72-hour kit to use in the event of a necessary evacuation.