Changes To Day Use Permits At Yosemite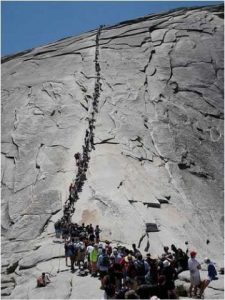 Half Dome Cables

View Photos
Yosemite Valley, CA– Due to the consistent crowded conditions on the Half Dome
cables at Yosemite National Park, Day Use Permits will be required seven days a week for the 2011 summer season.
The Half Dome cables are generally in place from mid-May through mid-October, depending on snowpack and weather conditions. Over the past several years, the popularity of the hike has resulted in large numbers of people using the Half Dome cables, particularly on
weekends and holidays. Saturdays and holidays averaged 840 visitors per day, while peak days saw up to 1200 people using the cables.
These large numbers of hikers raised safety concerns and there was a fatality and serious injuries sustained by park visitors due to these crowded conditions.
Yosemite National Park began an interim program for climbing the Half Dome cables in
2010 to address these serious safety concerns. Day Use Permits were required to use the cables on Fridays, Saturdays, Sundays, and holidays during the 2010 season. Although the interim program worked well on the permit days, visitor use on the cables during days in which permits were not required reached peak weekend levels.
The Half Dome Day Use Permits will be available starting March 1, 2011 for climbing the cables in May and June, 2011.
Written by tina.falco@mlode.com