Tuolumne County To Restructure In Face Of $3.7-million Shortfall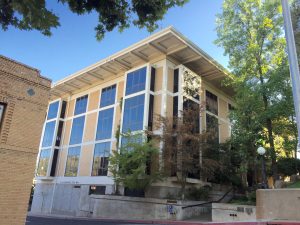 Tuolumne County Government Building

View Photo
Sonora, CA — Citing that uncomfortable decisions are coming, Tuolumne County will start from the ground up, with a zero-based budget strategy.
CAO Tracie Riggs gave an update on the projected revenues for the fiscal year that begins on July 1, noting that county costs continue to increase, but state and federal revenues are not keeping pace. There are also increasing unfunded liabilities, and things like the new jail coming online, which could require an increase of around $2-million in revenue.
Given a projected $3.7-million shortfall for the next fiscal year, Riggs recommended starting the budget from the ground floor, only including what is mandated by law, and then adding additional services and programs. She indicated that it will likely result in layoffs and a decline in county services.
The supervisors are planning to hold additional special meetings over the coming months to help hash out the details. In the near-term, a preliminary budget must be approved ahead of July 1st, and it will include a hiring freeze, eliminating contingencies, not adding to reserves, reducing overtime and part-time salaries and eliminating new vehicle purchases. The final budget, with the forthcoming restructuring, will be approved around September.
Board Chair Karl Rodefer called it, "The right approach," and stated it will take "a team effort." He called the earlier budget approach as "piecemeal."
Supervisor Anaiah Kirk agreed with the new approach, and Supervisor Sherri Brennan added, "I fully support this and it will take a tremendous effort."
Supervisor Ryan Campbell stated, "This is the pathway to find that equilibrium where county services are sustainable."
Clerk and Auditor Controller Debi Bautista argued that she wished the restructuring, and new approach, would have occurred three years ago.
It was noted that other items that the board may consider/debate over the coming months, when finalizing the budget, include a ½ cent sales tax increase, Transient Occupancy Tax Increase, a tourism tax or a fire parcel tax.