Why Is Downtown Sonora Struggling?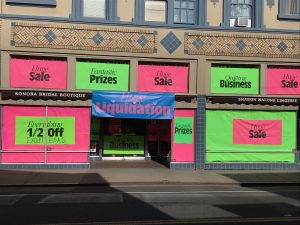 Store going out of business in downtown Sonora

View Photos
Sonora, CA — 81-percent of participants in a recent myMotherLode.com poll feel that downtown Sonora is struggling, and local government leaders are weighing in on it.
Over 700 people took part in the poll that was on the site in mid-May, and during the days that followed, we continued with supplemental polls asking residents to give their opinions as to why. You can find the results at the bottom of the page.
City Administrator Tim Miller responds, "I don't know that I'd use the word struggling. Certainly there are changes occurring downtown.  We have seen a number of businesses closed, and there are a lot of different reasons for that. Some of those include retirement and competition from online stores. We have gone through changes like this before, and we are seeing some of those vacancies being back-filled already."
Miller says the recent city organized Old West Festival was successful in bringing residents downtown. The city also puts on various other events like the Christmas Parade and the Farmer's Market.
"We subsidize activities well beyond what we collect in our revenues from the supplemental fees that are paid as part of the business licenses, to the tune of $60-80,000 per year, just with the promotional activities."
One thing that stood out in the myMotherLode.com polling was the desire for additional parking.
Asked about it, Miller indicates that studies done on the matter show that there is enough parking throughout downtown to meet the needs, whether it be government or retail related, however, the available spots may not be as convenient as people wish, or close to the business they want to visit.
There is a long term proposal in the Vision Sonora Plan to construct a new parking structure. However, it would take millions of dollars, and funding has not been identified.
Miller says, "So the other option is to look at parking management. What are the hours in the lots that are available? What are the hours in the downtown? That's certainly a conversation that has occurred before, and one that can continue."
He adds, "The other thing that we will be doing is adding directional signs to the public parking lots that are available off street, like the ones on Green Street or Stewart Street. It is also likely that we'll make the parking lot that used to be a permit lot, which is next to The Armory, a public spot, which could make additional spaces available for the downtown."
It is noted that the city, and Tuolumne County Transportation Council, are also funding a study for a long talked about north-south connector that could relieve additional downtown traffic congestion.
As for attracting and retaining businesses, Miller says, "With the ending of the TCEDA JPA, the city will be looking at rebooting its own economic development activities. We'll be discussing that with the council in the next couple of weeks…bringing on a consultant to conduct some surveys of the community, and the downtown, as to what people see as our local needs….and then working to implement it. Look for that as an activity in the near future as we take on our own economic development efforts directly."
Clarke Broadcasting also reached out to Sherri Brennan, whose Tuolumne County Supervisorial district covers Sonora, for comments regarding the polling results.
She says, "I think you can see some signs of a struggle. You can see a lot of storefronts that appear empty. It is the county seat, and we also promote it as a recreation and tourism spot. So it has two functions that are distinctly different."
From a county perspective, she says they have been aggressive in seeking grant funding to bring in talented staff, and they have brought people in who have an eye towards getting things done.
"When we're in government it is important that we find more opportunities than obstacles," she says.
She also hopes that the hiring of an Economic Development Director for the county, which is separate from the city's efforts, will have a trickledown effect and help spur additional business interest in the downtown district.
Clarke Broadcasting also reached out to Sonora Mayor Jim Garaventa regarding the polls, but he did not respond to requests for comment.
Poll Results: 
Is Downtown Sonora Struggling?
·        Yes (81%, 602 Votes)
·        No (19%, 137 Votes)
Why is downtown Sonora struggling? (chose all that apply)
·        All the above (38%, 203 Votes)
·        None of the above (35%, 185 Votes)
·        No anchor business (11%, 59 Votes)
·        Diversity of shops (9%, 46 Votes)
·        Quality of shops (8%, 41 Votes)
Why is downtown Sonora struggling? (choose all that apply)
·        Parking (35%, 236 Votes)
·        All the above (34%, 230 Votes)
·        Lack of City leadership (14%, 97 Votes)
·        None of the above (12%, 79 Votes)
·        Appearance (5%, 32 Votes)
Why is downtown Sonora struggling? (choose all that apply)
·        All the above (45%, 319 Votes)
·        None of the above (39%, 276 Votes)
·        Lack of promotion (7%, 53 Votes)
·        Inconsistent hours (6%, 44 Votes)
·        Commitment from owners (2%, 17 Votes)