Lawsuits Fly Over Water Board Plan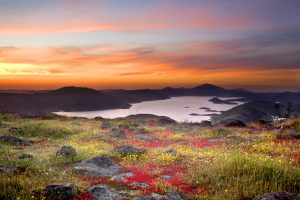 RCRC 2018 Rural County Photo Contest winning picture "Sunset Over New Melones Reservoir with Springtime Flowers on Table Mountain" by Peggy Sells

View Photos
Sonora, CA – Legal posturing has begun over state water regulators' recently passed plan broadly dubbed a "massive water grab" with far-reaching negative impacts.
Today, in Tuolumne County Superior Court, multiple plaintiffs filed an injunction request against the California State Water Resources Control Board over its proposed Bay-Delta Phase 1 unimpaired flow proposal that the board adopted Dec. 12, as reported here.
The water board plan, for the supposed purpose of protecting fish, will require 40 percent in unimpaired flows in the Stanislaus and two other rivers with a range of 30 to 50 percent between February and June. Local impacts include largely reducing the operational and recreational capabilities of New Melones for years at a time.
Tuolumne County Court Filing Details
With Jan. 11 being the end of a 30-day deadline to file a complaint, the lawsuits began to fly today. Listed plaintiffs on the Tuolumne County Superior Court filing are the Tri-Dam Project Partnering Oakdale (OID) and South San Joaquin (SSJID), the Turlock Irrigation District, and the City and County of San Francisco. All are members of the San Joaquin Tributaries Authority (SJTA).
OID General Manager Steve Knell explains the lawsuit filing in the county where part of New Melones reservoir is located may enable an appellate filing, if necessary, in Fresno, an area more centrally located at the heart of agriculture. He says the group's attorneys estimate that 15 to 18 complaints may file and consolidate if legal actions move forward, a process that might take six to eight months.
Asked about the apparent failure to complete negotiations in December, Knell says that although much work was done with the Governor's Office, Department of Water Resources, and Fish and Wildlife, there was still a bit more to be done; however, the Water Board voted to push its plan approval over carrying negotiations into the new year under a new administration.
"We ended up very, very close…we wanted a little more time. The board said no and in order to preserve our legal rights, we then had 30 days to file a complaint — that is where we are at," he continues. "Who knows the new Governor is going to do — if any of the players are changing…we are just waiting."
Federal Lawsuit In The Wings?
Knell stresses that potential plan impacts to New Melones may well trigger another lawsuit from higher up the chain. "A real key issue is how is the federal government is going to respond to a state plan that interferes with the operation of a federal dam." He adds, "We have shown the feds that the demand on Melones is significant. It will drain that reservoir and it takes all of its operational ability away from the federal government because it will be pumping out so much water."
Should the federal government file an action he says, "The feds and the state would have to knock it out in federal court…until that is decided all of our cases sit on the sideline." The feds have more reasons to complain under the Water Board's overall plan, which in Phase 2 involves the Sacramento River and what will be similar operational impacts on federally controlled Shasta reservoir.
Asked how long the matter may remain mired in lawsuits, Knell confides, "Our attorney says that if they don't want to play ball this could be five to eight years down the road, and that for us just serves no purpose, because it until then it is all uncertainty and that's not good. The fisheries do not get better, projects are not implemented, and predation is not cured. For all the things that are harming fish, nothing gets done. I mean if it's about fish, you are really not going to be able to do anything to help fish in that period of time and that is truly unfortunate – if it is truly about fish."
Apart from today's filings, Knell emphasizes hope for continued negotiations and a voluntary settlement that will provide a viable solution that addresses all stakeholders' needs. "We stand ready to go back. We are willing to go back to the table because we really are that close."
For more details on the SJTA lawsuit filing, click here.