Friday Flix & 2nd Saturday Art Night Celebration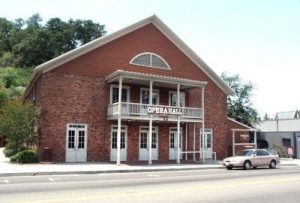 Sonora Opera Hall

View Photos
A fun monthly movie event will return to the Sonora Opera Hall this Friday January 11th.
Laurie Lehman of the Sonora Chamber of Commerce and 2nd Saturday Art Night was Thursday's KVML "Newsmaker of the Day".
Friday Flix debuted last year at the Opera Hall.
As Lehman explains, "You may have seen these movies… but not like this"!
Each movie shown will be a full INTERACTIVE movie experience.
According to Lehman, "We begin the series this year, with the classic movie 'Willy Wonka and the Chocolate Factory'.
So, how do you make a movie interactive?
When you enter the "theater" (Opera Hall), you will be given free popcorn and the first fifty people get a goodie bag. There will be a costume contest, trivia and someone may even win the GOLDEN TICKET!
This movie has several iconic scenes and songs, and the entire audience is encouraged to recite and sing along!
The entire family is invited. For both kids and adults, there will be themed beverages available for purchase.
The doors open at 6 PM. The costume contest begins at 6:30 PM. The movie starts at 7 PM. Tickets are $5 at the door.
The public can either bring their own chairs or sit in the chairs provided.
Other scheduled movies include 'Grease' on February 8th, 'Ghostbusters' (the original) on March 15th, 'Young Frankenstein' on April 19th and 'Butch Cassidy and the Sundance Kid' on May 17th.
Friday Flix is a separate companion to 2nd Saturday Art Night, which is presented by the Sonora Chamber of Commerce each Saturday from 5 to 8 PM.
This Saturday is significant, as this will be the 100th consecutive 2nd Saturday Art Night!
The event began in 2010 with six art galleries. It grew rapidly. Today, it continues to be one of the most successful events featured in downtown Sonora.
In honor of the 100th 2nd Saturday Art Night, the Chamber will be holding a special event! While strolling the businesses on both sides of Washington Street, your task is to find a "Little Birdie" somewhere inside and take a selfie with it! Working in groups is encouraged!
Find 5 "Little Birdies" then make your way down to the Sonora Inn, share your selfie's and receive a FREE 2nd Saturday MUG! (while supplies last!)
For more information, log on to http://www.sonorachamber.org/
The "Newsmaker of the Day" is heard every weekday morning on AM 1450 and FM 102.7 KVML at 6:45, 7:45 and 8:45 AM.