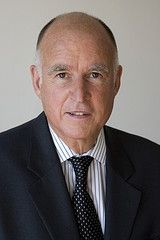 Jerry Brown

View Photos
This morning Governor Jerry Brown issued a Labor Day Declaration.
"When government and business recognize the intrinsic right of workers to organize and bargain collectively, it is possible to create an orderly system of industrial relations, avoiding the chaos and bloodshed that often marked labor disputes in the past. While unions and craft organizations began to hold Labor Day picnics in the 1870s, it was not until 1894 that this observance became an official holiday for all Americans. In that year President Grover Cleveland established the national Labor Day as part of his efforts to heal the nation's wounds after the tragic events of the Pullman Strike.

This year, as we enjoy Labor Day traditions, ranging from beach outings and barbecues to an annual change in the rules of high fashion, we should reflect on how much progress we have achieved as a nation in the field of labor relations.

I urge all Californians to take this opportunity to remember not only the vital contribution that organized workers and labor unions have made to our country, but also the rare privilege of living within a democratic system where ordinary people hold and exercise the ultimate political power."
-Governor Jerry Brown