Historic Fountain Springs To Life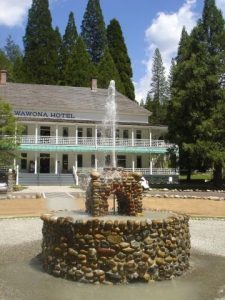 Wawona Hotel Fountain

View Photos
Yosemite, CA — The historic fountain in front of the Wawona Hotel is again operational.
The main fountain at the hotel in Yosemite National Park had been covered by a tarp for many years. The fountain had last been remodeled over 90 years ago, and had outdated plumbing and gradual deterioration.
The Yosemite Conservancy, National Park Service and Delaware North Companies (which manages the hotel) partnered on a $400,000 restoration project to restore the fountain and a smaller one located at the adjacent Thomas Hill Studio.
"Yosemite's natural wonders are complemented by historic places like the Wawona Hotel and its fountains," says Mike Tollefson, Yosemite Conservancy President. "By connecting people to the park through its history, we are improving the visitor's experience today and encouraging people to preserve Yosemite for future generations."
The Wawona Hotel opened in 1879.