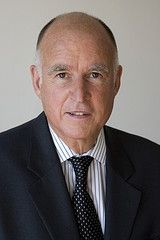 Jerry Brown

View Photos
Finally, the event dubbed by many as the "Royal Event" of the year, will take place tomorrow at the Motherlode Fairgrounds in Sonora.
Melinda Fleming, Friends of the Fair spokesperson, was Thursday's KVML "Newsmaker of the Day".
The inauguration ceremony of the brand new fairground restrooms, located by the grandstands, will take place on Friday April 29th.
The public is invited to the "Royal Flush" event and watch the Toilet Paper Cutting Ceremony at 5 P.M., listen to speeches from local area dignitaries and participate in a social hour from 5:15 – 6:15 pm. The public will be also be able to take a grand tour of the new toilet facilities.
Refreshments will be provided by Friends of the Fair.
Friends of the Fair is a non-profit group that helps support and promote fair projects, programs and needs. Anyone can be a member for just twenty dollars. More information on Friends of the Fair can be found by calling the fair office at (209) 532-7428.
The "Newsmaker of the Day" is heard each weekday morning on AM 1450 KVML at 6:47, 7:47 and 8:47am.
Written by mark@mlode.com