New Angels Camp Committee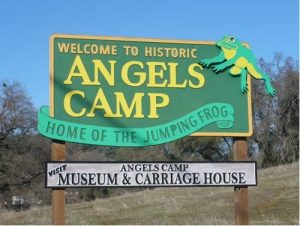 Angels Camp

View Photos
Angels Camp, CA– A new commemorative committee has been formed in Angels Camp to celebrate four years of city anniversaries.
The celebrations and activities will be from 2012-2015.
Next year the Angels Camp Commemorative Committee (ACCC) will celebrate the 100th anniversary of the City's incorporation.  Events are now being planned for May through October and the main event will take place the weekend of September 29-30, 2012.
2013 is the 165th anniversary of the town's founding by Henry Angels, 2014 is the 165th anniversary of the 1849 gold rush, and 2015 marks the 150th anniversary of Mark Twain's visit to Angels Camp.
ACCC member Ted Folendorf is excited about the new committee and said, "This committee was formed to bring the community together to appreciate the past and to give the youth knowledge and information about their town."
Folendorf adds that the committee welcomes new members.  The next ACCC meeting is Tuesday, April 12th at 1 pm at Camps in Greenhorn Creek.
For more information call (209) 559-1245.
Written by tina.falco@mlode.com