Forest Program Benefits People, Watersheds And Wildlife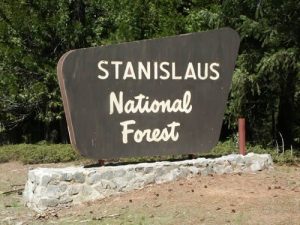 Stanislaus National Forest

View Photos
Stanislaus National Forest, CA — A report shows local and national groups working together are benefiting area forests and communities. That U.S.D.A. Forest Service report summarized the funding and work done in the Stanislaus and Eldorado National Forests by the Amador Calaveras Consensus Group (ACCG) Cornerstone project. The project is part of a larger national program, called Collaborative Forest Landscape Restoration (CFLRA), which works to restore national forests.

The ACCG Cornerstone Project is one of 23 national projects that split $40 million in 2012. According to the report, the Stanislaus and Eldorado national forests spent more than $658,000 CFLRA funds this year. That money was matched by more than $433,000 in other forest service funds. Also, there was more than $67,700 in partnership contributions and over $1 million in leverage funds from ACCG members. Forest Officials say it is a win win situation for businesses, communities and the forest service.

Stanislaus National Forest Spokesperson Jerry Snyder says, "Through the project we helped to support business in our community. The goal was to reduce the risk of wildfires to life and property while restoring the forests, watersheds, meadows and streams to healthy conditions. That work helped to create a number of sustainable local jobs for the community and reduced wildfire suppression costs." Snyder says the project is slated to run until 2019 as long as the President and Congress approve funding each year.
Here is list of work done in 2012 in the two forests:
• Treated 678 acres of hazardous fuels, 558 of those acres had homes nearby
• Improved vegetation on more than 1,347 acres
• Managed noxious weeds and invasive plants on 163 acres
• Protected or improved more than 740 acres of water or soil resources
• Restored or enhanced 4.2 miles of stream habitat
• Improved rangeland vegetation on more than 212 acres
• Supported 31.1 direct and 47.2 total part-time and full-time jobs
• Provided direct labor income of more than $1.2 million and total labor income of more than $1.9 million
• Hired and trained a timber marking crew that can work on projects in the future
Click here for more information on the CFLR.