Another Fire Ignites In Stanislaus National Forest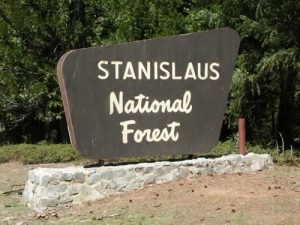 Stanislaus National Forest

View Photos
Stanislaus National Forest, CA — Forest Officials report the Wheats Fire is contained, but now they're fighting another blaze above Arnold. They say crews are battling the 3 acre Ramsey Fire in an isolated area of the Stanislaus National Forest near the old Ramsey Mining site.

Forest officials say they are mostly battling it from the air as ground crews are just arriving on the scene due to very rough terrain. They say two air tankers, 2 helicopters and air attack out of Columbia have been able to hold the rate of spread by dropping retardant.
Forest Officials say no structures are in danger at this time and there is no word on what sparked the blaze.
Click here for a map of the area.
Update 9pm: Forest Officials report the fire has grown to 10 to 20 acres. Ground crews are now battling the blaze. They say crews are putting in fire lines. Forest Officials say there is a minimal threat to some structures in the Ganns Meadow area east of Cottage Springs and Highway 4. Ground crews will continue to fight the fire overnight.