Forest Orders Keep Some Roads Closed For Now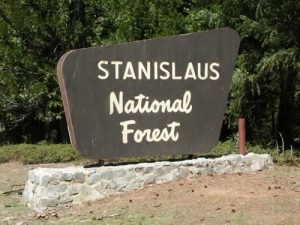 Stanislaus National Forest

View Photos
Sonora, CA — Stanislaus National Forest officials say due to this past winter's snowfalls — among the heaviest on record — some seasonal roads will remain closed until June 30.
Roads closed until May 31 on Summit Ranger District, as outlined in Forest Order 16-2019-01, include Herring Creek and Eagle Meadow roads. A second forest order, 16-2019-02, highlights the closure until May 31 of Forest Road 4N26/Crabtree Road from its intersection with Forest Road 4N25 to its end at Crabtree Trailhead.
Roads closed until June 30 on Calaveras Ranger District are indicated in Forest Order 16-2019-03. Under Forest Order 16-2019-05, Forest Road 5N56 remains closed until Dec. 31 due to significant damage to nearly a mile of road from its intersection with Forest Road 5N52.
Stanislaus National Forest Supervisor Jason Kuiken indicates that in addition to the heavy snowfall, which continues to prevent safe travel on some roads, warm weather systems brought heavy rains and high winds that resulted in an unusually high number of fallen trees upon forest roads. "Allowing vehicles to travel these roads would put vehicle occupants at risk and damage the forest's road infrastructure and surfaces," he explains.
Groveland, Mi-Wok Ranger District Road Conditions 
As Groveland Ranger District is located at a lower elevation, seasonal closures due to snow are less frequent, but the winter weather caused large numbers of hazard trees to fall. So rangers warn recreaters to use great caution when traveling forest roads and realize many less-traveled roads may be impassible. Although Groveland road crews have cleared hazard trees from more than 130 miles of roads, there is at least half that distance still left to clear.
Mi-Wok Ranger District roads are open, but visitors may find snow covering district roads at the higher elevations, so be careful driving and limit travel on snowy roads.
Kuiken states that traveling on wet or snowy roads can damage them, which is why they are closed during the winter. "Because many roads are not maintained for travel in wet or snowy conditions, our employees follow the same direction that the public does: if the road is closed, only an emergency would allow access," he emphasizes.
To view all forest orders, click here.