Democrats: We Must Protect Affordable Care Act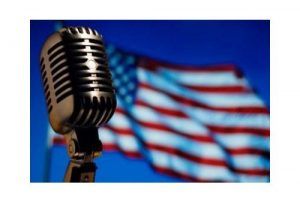 Microphone and US Flag

View Photos
During Thursday's Democratic Weekly Address, Senator Jacky Rosen (D-NV) stated that the Trump administration took another heartless step in their ongoing efforts to sabotage our health care by requesting that the Affordable Care Act be struck down.
Rosen was Tuesday's KVML "Newsmaker of the Day". Here are her words:
Hello, I am Senator Jacky Rosen and I am proud to represent Nevada in the U.S. Senate.
Last week, the Trump Administration took another heartless step in their ongoing efforts to sabotage our health care by filing a formal request to strike down the entirety of our nation's health care law. Regardless of people's opinions of the Affordable Care Act, we know there is no single issue that matters more to hard-working families and health care.
It is a personal issue. It affects each and every one of us. And we all know that one diagnosis can change your life in an instant. Whether it is insuring a parent can take their baby with an ear infection to the pediatrician or a family facing a cancer diagnosis is able to depend on coverage protections for their loved one, access to care is critical and must be protected.
From Las Vegas to Elko, I have met with countless Nevadans who depend on access to quality and affordable care. Yet the Trump Administration is continuing its relentless assault undermining our nations health care system by attempting to strip away critical protections for millions nationwide. We are no longer just talking about stripping away protections for those with pre-existing conditions, as if that was not enough. We're in even more dangerous territory than before.
If our health care law completely is wiped out, we will see an end to the tax credits that make coverage affordable for middle income families. An end for preventative care provided without a co-pay, like health screenings and contraceptives. An end to the ability for young adults under age 26, to stay on their parents insurance. And an end to expanded medicaid benefits which have helped more than 200,000 Nevadans get coverage and millions more nationwide.
If this Administration has its way with invalidating our health care law, it would spell disaster for primary care providers and for the hundreds of millions who rely on its protections for access to quality, affordable care.
Health care is one of the top kitchen table issues in Nevada. I cannot even begin to count the number of Nevadans who have shared how they would be affected by the courts striking down protections in our health care system. Each day, these individuals tell me what it means not having to fear being denied coverage based on a pre-existing condition. Over 1.2 million Nevadans alone live with a pre-existing condition and nationwide roughly one third of all Americans live with a pre-existing condition.
So, we all know what is at stake if these individuals are denied access to care.
In Nevada and across our country, we continue to face a shortage of physicians, particularly in primary care. We need to come together and work to help communities in rural areas gain greater access to critical health care services including through telehealth.
There are plenty of ways that Congress can work in a bipartisan way to improve the Affordable Care Act, including supporting legislation to bring down skyrocketing drug costs and improving access to telemedicine in our rural and under-served communities.
But destroying the law and leaving Americans at risk is simply unacceptable.
That is why during my first few weeks as Senator, I joined Senator Manchin in helping to lead the effort to defend the constitutionality of the Affordable Care Act. Our resolution would direct the Senate legal counsel to intervene in the Federal Court Case where the A.C.A. and our health care system is under attack and to defend our current law including those protections for pre-existing conditions.
This past week, during my first speech on the Senate floor, I called for Senate Republican leaders to take up and pass this resolution to defend the constitutionality of the ACA in court. Sadly, but unsurprisingly, Republicans locked my request.
Leader McConnell would not even let us take a vote on it. He has refused to allow the Senate to take a vote on a number of bills that have passed the House and that would help hard-working American families and workers, most notably legislation that passed the House this past week that would re-enforce protections for people living with pre-existing conditions. We know that health care is not our only fight.
Every day, this Administration shows us its true colors. Whether it is by taking away access to affordable quality care, advancing policies that undermine women's reproductive freedoms or by implementing cruel immigration policies that go against our American values. Separating immigrant families, taking away children from their mothers arms — we know in our hearts this is not who we really are.
As we gather this week to celebrate Mother's Day, let us commit to stopping these cruel and heartless policies. The long-term effects of these separations are immeasurable and likely to impact these children and their families for years to calm.
Today, the Senate faces many challenges. But at a time of increasing political division and partisan gridlock, it is even more important for both sides to come together and make progress on issues that are impacting families across our country. Because Nevadans and Americans everywhere are counting on us to go above and beyond, to overcome the obstacles before us and to find common sense, forward-thinking solutions to the challenges for this new era.
Nevadans sent to me to the Senate to protect their health care. That is what I am doing and what I will continue to do. And I hope that my Senate colleagues will listen to the millions of Americans who want politicians to stand up, protect their care and work together to solve problems instead of tearing down the critical protections that millions depend on."
The "Newsmaker of the Day" is heard every weekday morning at 6:45, 7:45 and 8:45 on AM 1450 and FM 102.7 KVML.