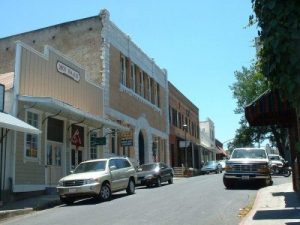 Downtown San Andreas

View Photos
This Saturday there are several events in addition to the Farmer's Markets and concerts in the park.
The fifth annual Farms of Tuolumne County Farm and Ranch Tour starts at 10am. The featured farms and ranches are: Solomon's Gardens, La Bella Rosa Vineyards, Mother Lode Ranch, Sweet River Ranch and Rancho Torales/Sonora Gold. The tour features horse drawn wagon rides, educational workshops and displays, food and wine tasting, spinning and weaving demonstrations, a variety of animals for petting and more. Kids 18 and under get in for FREE. For more information see our event listing here.
Also on Saturday, from 10am-4pm, the 19th Annual Art Show of the Sierra Professional Artists held at the Groveland Hotel. Artists will feature minature art as well as larger masterpieces, admission is free.
In Jamestown at 10am is the Foothill Flywheelers Engine Club Branch 49 Show. There will be a display of old hit & miss engines, free train rides with a tour of an old town setting. Lots of family fun, and a petting zoo. For more view the full event listing here.
Over in Calaveras an Ice Cream in the Park Fundraiser at Calaveras Big Trees Park starts at 11am. More information is here.
Operation: MOM Food Drive will be at the Grocery Outlet in Sonora
from 10am – 3pm. Further details are here.
Tuolumne County Master Gardeners Open Garden Day is 10am -1pm at 251 S. Barretta St in Sonora. Water conservation and how to consturct a drip irrigation system is a key topic of discussion. For more details go here.
In San Andreas, the Center for Creativity in Community, located at 23 West St. Charles (On Hwy. 49 near Main St) will be hosting an open house and art show from 11 am to 7 pm.
Enjoy art in the gallery, art in the garden, art for kids, live music, food and fun. The Calaveras County Chamber of Commerce will present Wines on Main starting at 4pm as part of the first annual San Andreas Artwalk. For wine tasting tickets and the full details see the event listing.
If you want to go over to the Northern Mariposa County History Center they are hosting another "Young John Muir Tour". The Bus departs at 9am for a 3-hour interpretive bus tour that culminates with a short hike to Bower Cave and then returns to the History Center in Coulterville.
Subsequent tours are scheduled on the first Saturday's in August (the 4th) and September (the 1st). For the cost and more details view the event listing.