Summerville Eyes Bond Measure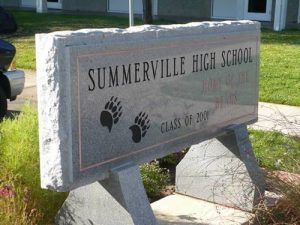 Summerville High School

View Photos
Tuolumne, CA — Summerville High School is taking steps to place a Bond measure on the November ballot.
School Superintendent Dr. John Keiter says the district is looking to possibly extend Measure Q, which was approved by voters in the late nineties.
"We attempted to do this (extension) in November, two years ago, and just barely missed the 55% approval mark," says Keiter. "We still have deterioration at different facilities, and unsafe areas, where we want to make improvements."
Keiter says he is hopeful that the roughly $8 million bond measure would pass this time around. The bond issue will be discussed at tonight's Summerville High Board of Trustees meeting scheduled for 6:30pm. In addition, the district will vote on next year's budget, and talk about the financial state of the Connections Academy program.
Sonora High School also took steps this week to place a bond measure on the upcoming November ballot. To read that story, click here.