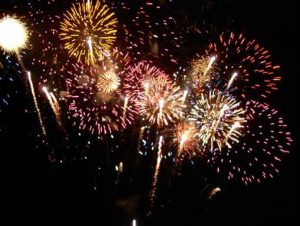 Lake Don Pedro Firework (file photo)s

View Photos
Stanislaus National Forest Public Affairs Officer, Jerry Snyder, reminds visitors and campers that July Fourth and year-round fireworks are illegal on federal land. Fireworks and other pyrotechnic devices are prohibited on national forest and national grasslands year-round. This includes cold and winter weather conditions as well as all holidays.
Snyder says, "We have not had serious problems in the past. Although, occasionally, we will run into somebody that has brought them up and used them. We really want people to be aware of the dangers that fireworks can cause in a dry forest." Snyder also says that forest visitors are reminded to ensure that all fires are extinguished and cold to the touch before leaving them.
Violations of the no fireworks law is punishable with a misdemeanor fine of up to $5,000 and imprisonment for up to six months.
Fireworks and those that have a "Safe and Sane" logo from the California State Fire Marshall on the packaging are banned throughout Tuolumne County. "Safe and Sane" labeled fireworks are permitted in Calaveras county except in the Ebbetts Pass Fire District (Arnold) and the Central Fire Protection District (Mountain Ranch). Fines for violations start at $240.