McClintock Praises AG Barr's Handling Off Mueller Report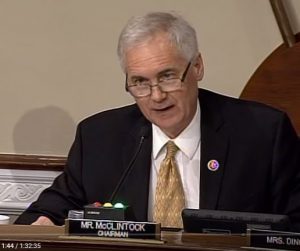 Congressman Tom McClintock

View Photos
Washington, DC — As the House Judiciary Committee today discusses the possibility of holding Attorney General William Barr in contempt for defying a subpoena, Representative Tom McClintock is praising Barr's decision.
The committee, led by Democrats, is holding a hearing in Washington, DC related to Barr's decision to withhold subpoenaed evidence related to the Mueller Report, and declining to provide an un-redacted version.
McClintock says, "The American people can plainly see what is going on here. For two and a half years they have been force fed a brazen and monstrous lie that the President of the United States is a traitor who is loyal to a foreign and hostile power."
McClintock also stated that Congressional leaders are overstepping their bounds by demanding the documents. "Congress is the lawmaking branch of government. If this committee feels it is so important to see the Grand Jury testimony, it can change the law. But, it cannot order the highest ranking law enforcement official in our country to break that law."
Minutes before the hearing started, President Donald Trump sent a letter to the chair, Jerry Nadler, asserting executive privilege over the items requested.