Ready To Climb Half Dome?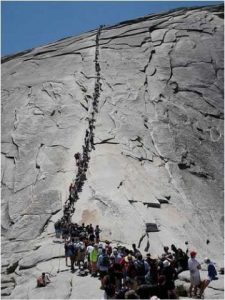 Half Dome Cables

View Photos
Yosemite, CA — Half Dome cables will be in place in Yosemite National Park just in time for the busy Memorial Day weekend.
Park Ranger Kari Cobb says, weather permitting, the cables will be ready for use beginning on Friday morning. Seven days a week, visitors are now required to have a permit to ascend the Half Dome Cables. The majority of the permits were distributed through a lottery system that ended in March. However, approximately 50 permits per day will be available two days in advance, via a lottery.
For more, Yosemite advises people to click here.