Yosemite Must Limit Merced River Usage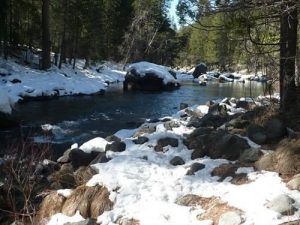 Merced River

View Photos
Yosemite National Park officials must come up with a plan to limit the number of people who use the Merced River within the Yosemite Valley.
The plan is needed because of a federal court order that declared all of the land within a quarter mile of the Merced River, as a "wild and scenic" federal designation.
Yosemite officials have come up with an initial draft document and alternatives to outline several ways that the Park can comply with the court order.
One draft alternative would decrease the number of valley visitors by twenty-seven percent.
There will be a few public workshops to discuss the draft studies and proposals. The next one will be this Wednesday in San Francisco.
Closer to the Mother Lode area, there will be a workshop on April 12th from 5:30 to 8 PM at the Community Hall in El Portal. There will also be a workshop on April 13th from 1:00 to 3:30 PM at the Wawona Community Hall.
From the combined workshops, a draft study will be available for public comment before the end of this year. The submitted plan is due by the Summer of 2013.