Illegal Pot Grow Creates Dangerous Risk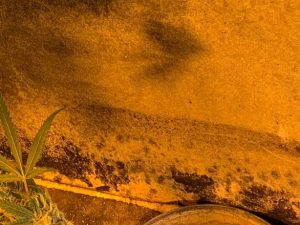 Sheep Ranch pot grow bust with mold

View Photos
Mountain Ranch, CA – It is a common site recently in Calaveras County after raids on properties where growers take over every structure to cultivate their illegal produce; and its creating a health and fire danger.
The latest incident was Thursday at a residence in the 9000 block of Sheep Ranch Road in Mountain Ranch. At the site, both the home and a detached garage were filled with a total of 817 plants. It is the second time this week, Calaveras County Sheriff's Office Marijuana Enforcement Team has found a disturbing trend as explained by Sgt. Greg Stark, "There was hazardous electrical wiring hanging from the ceiling and mold throughout the growing areas inside the residence, which was ultimately deemed unsafe for occupancy and red tagged by the county code enforcement agency."
Those hazardous conditions were also found along with the over 400 plants and 13 pounds of processed marijuana this past Tuesday at a Valley Springs home, as reported here.
In both incidents no suspects were found at the scene and the investigation is ongoing. Sgt. Stark urges the public to report any suspicious sites to the
Sheriff's anonymous Marijuana Tip Line at (209) 754-6870.