Valley Springs Home Raid For Illegal Grow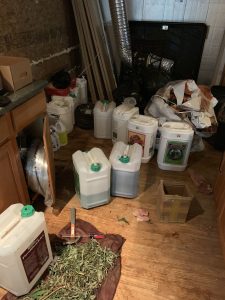 Pot raid on Valley Springs home

View Photos
Valley Springs, CA – A raid at a Valley Springs home today for illegal cultivation resulted in plant and processed weed seizures and hazardous discovery.
Calaveras County Sheriff's Office Marijuana Enforcement Team with a warrant in hand uncovered another home turned illegal grow; this time in the 2000 block of Berkesey Drive.  Investigators found several individual growing rooms inside the house.
A total of 401 marijuana plants and 13 pounds of processed marijuana were seized. What was even more disturbing than the unpermitted hazardous electrical work is what county code enforcement officials found growing on the ceiling — black mold. What was not found on the property were any suspects so no arrest could be made at this time, but the investigation is ongoing.
As these entire home renovated pot grows have become more common, the sheriff's office is turning to the public for help in locating them and destroying the weed they yield. Anyone with information on this grow or another potentially illegal marijuana cultivation or concentrated cannabis manufacturing sites is urged to call the Sheriff's Marijuana Tip Line at (209) 754-6870.