Kristin Olsen On The Sacramento Rally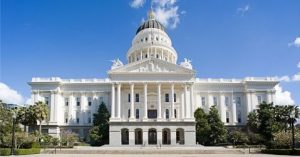 California State Capitol

View Photos
Sacramento, CA – Students and supporters from all over California are rallying at the Sacramento Capitol building today.

Participants at the rally represent several different orginazations. One is a first-ever state wide rally organized as part of the annual Association of Independent California Colleges and Universities Day. The group is speaking to the state legislature in opposition of Gov. Jerry Brown's proposal to cut the maximum Cal Grant award by nearly half for students at independent nonprofit colleges.
Participants hoped for a turnout of 10,000, so far several reports estimate a crowd of 4,000 – 5,000. Sacramento Police have extra officers on horseback and on bikes out to help keep the demonstration from getting out of hand.
Assemblymember Kristin Olsen provided her reaction, "I stand with the students and educators here at the Capitol today, and across the State, who are advocating that the Legislature make K-12 and higher education funding a priority."
According to the Associated Press a group called ReFund California is at the capitol to support funding schools and universities with a proposed income tax hike on Californians making more than $1 million dollars a year.
Olsen stated, "I disagree that raising taxes is the only way to give our students the level of funding they deserve." According to Assemblymember Olsen, tax revenues grew this year but K-12 funding was down $700 million while health and welfare spending has grown $3 billion each year. Olsen also reported that last week Democrats rejected $1 billion in welfare cuts. Olsen said "Rejecting these cuts puts education funding in further danger."
Olsen concluded, "We need to focus California's resources on education, higher education and public safety first, cut unnecessary and inefficient state bureaucracy, and then use remaining taxpayer dollars to fund other programs."