California Farm Bureau Federation Celebrates 100 Years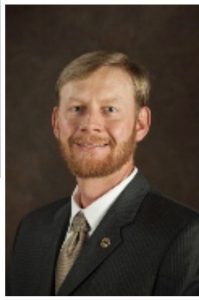 Shaun Crook

View Photos
The California Farm Bureau Federation (CFBF) was founded in 1919, when delegates from thirty-two county Farm Bureaus met in Berkeley to create the statewide organization.
Shaun Crook, 2nd Vice President of the California Farm Bureau and resident of Tuolumne County, was Friday's KVML "Newsmaker of the Day".
For the past one hundred years, the CFBF has worked to protect and promote family farms and ranches throughout the entire state, and has worked to find solutions to problems facing agriculture and rural communities.
Crook was elected second vice president of the California Farm Bureau Federation in December 2017.
Before that, Crook was elected president of the Tuolumne County Farm Bureau in 2015 and is a graduate of the Leadership Farm Bureau program. He chaired both the CFBF Economy and Farm Policy Issue Advisory Committee and the Commodity Policy Review Committee. He has also served on the CFBF Resolutions Committee.
Crook earned a degree in agricultural business from California Polytechnic State University, San Luis Obispo. A licensed timber operator, Crook is also a vice president of the Crook family timber business.
"I believe I'm one of the first loggers to be an Executive Officer and there have been very few people from small rural counties", said Crook, "We have diversity in our Officers. It's amazing because we have to be involved in so many things and you can't do that without good quality people that work for you. We are definitely blessed with that. We also can't do that without our members. We are a grass root membership based organization and we have 40,000 members statewide."
The CFBF is a nonprofit organization of farmers and ranchers consisting of county Farm Bureaus from nearly every county in California.
According to Crook, the CFBF is deeply committed to their mission, which is to improve the well-being and quality of life for California farmers and ranchers. They do this through advocacy, ongoing outreach, and economic services and products for those involved in agricultural production.
Farming and ranching touches nearly every aspect of human activity and is always the subject of legislative and regulatory interest. The CFBF works with each County Farm Bureau, works at the state level and works with leaders at the national level. They have a full legal department that keeps a sharp eye on several issues affecting farmers, ranches and land.
To find out more information, log on to cfbf.com
The "Newsmaker of the Day" is heard every weekday morning at 6:45, 7:45 and 8:45 on AM 1450 and FM 102.7 KVML.