Update: Hit & Run Suspect Wanted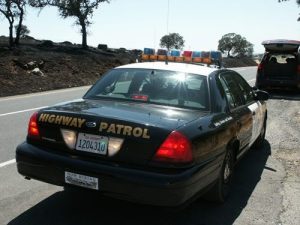 CHP Unit

View Photos
Twain Harte, CA — The CHP is still looking for a man in his late 20's who is a suspect in a hit and run crash in Twain Harte. It happened around 12:45pm. The suspect was driving a BMW and rear ended a Subaru on Hunts Road near Highway 108.

CHP Officer Nick Norton says, "The driver of the Subaru had just come off of 108 and was turning from Twain Harte Drive left onto Hunts Road when the BMW came at more than 50 mph and hit the back end of her car. It spun the Subaru in a 360 degree circle. When the Subaru stopped, she looked up and saw the driver of the BMW exiting the car and ran down Hunts Road."
When officers arrived on the scene they searched the Twain Harte area for about two hours, but the suspect was not found. The man is described as a white male about six feet tall. He was wearing blue jeans and a white shirt. If you have any information on the crash or suspect please call the Sonora CHP at 984-3944.
Norton says they are checking the license plate on the car in hopes of finding the driver. Also, they are investigating whether alcohol or drugs played a role in the crash. The driver of the Subaru suffered minor injuries.

Click here for a map of the chase area.