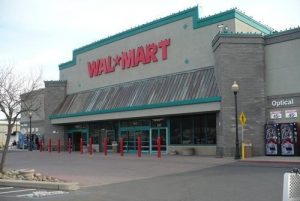 Sonora Wal-Mart

View Photos
San Francisco, CA – The Associated Press reports Wal-Mart Stores Inc. has admitted to dumping hazardous waste. The retail giant pled guilty to charges it dumped hazardous waste in California Today in a San Francisco federal court.

A company spokeswoman says Wal-Mart pled guilty to misdemeanor counts of negligently dumping pollutants from Wal-Mart stores into sanitation drains across California. The company must now pay $81 million as a result of the plea. That money will also cover charges the company faced in Missouri. The Attorney General of Missouri says Wal-Mart sent common household products such as charcoal, potting soil, herbicides, pesticides, and other chemicals that were returned to or could not be sold at Wal-Mart stores to two sites in Neosho, Missouri, for disposal by the contractor, Greenleaf, LLC. Greenleaf did not have the necessary permit for the treatment, storage, or disposal of hazardous waste and did not properly manage the waste materials.
In 2010, the company agreed to pay $27.6 million to settle similar allegations made by California authorities that led to changes in the retailer's practices nationwide. Wal-Mart was accused of improperly disposing pesticide, fertilizer and paint.
The AP says the state investigation began eight years ago when a San Diego County health department employee saw a worker pouring bleach down a drain.