Mother Lode County One Of 13 Awarded Fire Resiliency Grant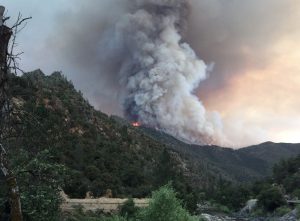 Ferguson Fire in Mariposa County

View Photos
Mariposa County, CA – CAL Fire has awarded more than $63 million in grants to 16 projects, covering nearly 200,000 acres of forestland including some in Mariposa County.
The projects involve private, state, and federal forestlands in 13 of the counties and will promote healthy forests to help enhance carbon sequestration through CAL FIRE's "Forest Health Program."
"These landscape-level Forest Health projects complement the immediate actions to prevent and mitigate wildfires that CAL Fire proposed in its recent"45-Day Report" to Governor Gavin Newsom, explains CAL Fire Assistant Deputy Director for Climate and Energy Angie Lottes. She adds,  "Together, our investments will help make our forests more resilient, reducing the risk of wildlife and the resulting loss of carbon, while also improving ecosystem health."
Much of the funding will go towards thinning dense and pest-impacted forests; using prescribed fire to reduce hazardous fuel loads; and planting trees in forests diminished by fire, drought, insects and disease. Mariposa County's "Southern Sierra All-Lands Restoration and Recovery Project" will receive a $2,434,462 slice of the funding pie to implement some of that forest work.
California Climate Investments, a statewide program that utilizes billions of Cap-and-Trade dollars to reduce GHG emissions, strengthen the economy, and improve public health and the environment, especially aimed at disadvantaged communities, is footing much of the bill for CAL Fire's healthy forest program. Within the next month, another $37 million in additional funds for fire prevention projects and $2.5 million for scientific research into forest health issues will be awarded. CAL Fire has not yet revealed what counties have been selected to receive that money.