Indoor Grow Houses Over 2,100 Pot Plants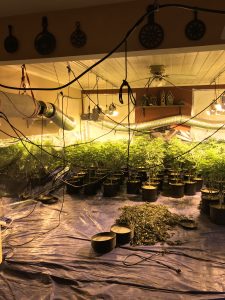 Indoor illegal pot grow in Mountain Ranch

View Photos
Mountain Ranch, CA – While there were no arrests at the Mountain Ranch property, Calaveras County Sheriff's officials share that any space available for growing pot was used.
After serving a search warrant on an illegal indoor marijuana grow at a home in the 8000 block of Mountain Meadow Drive in Mountain Ranch earlier today, members of the sheriff's Marijuana Enforcement Team seized 2,111 pot plants.  A check of the property uncovered that the growers had wasted no opportunity to cultivate the marijuana, finding the entire two-story house, a barn, and even a carport converted into grows.
Calaveras County Code Compliance officials determined the house to be substandard due to hazardous electrical conditions, no permits for interior structural changes, and an unpermitted indoor diesel generator.  Sheriff's officials are not releasing any more details on the bust citing their ongoing investigation.
The public is encouraged to contact the sheriff's office if they know or are suspicious of an illegal grow or manufacturing concentrated cannabis activity underway at a property.  The Sheriff's Marijuana Tip Line is (209) 754-6870.