Vandal Hits Sheriff's Community Services Office In Twain Harte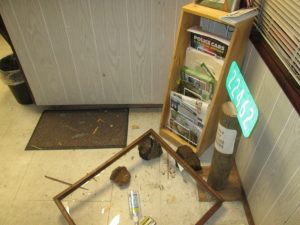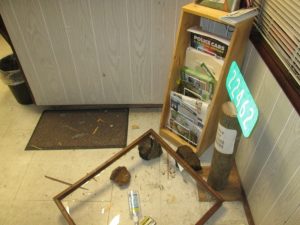 Damage done to the Tuolumne County Sheriff's Community Service office

View Photos
Twain Harte, CA – A suspect wanted for allegedly vandalizing the Tuolumne County Sheriff's Community Service office in Twain Harte was arrested while staggering to a nearby bar.
A deputy was dispatched last night (Wednesday) just before 11 p.m. to the office on Meadow Drive after a caller alerted sheriff's officials to a crime in progress. The person also described the suspect vandalizing the property. Nearing the scene, a man fitting that description was spotted by the deputy walking towards Ed's Bar.
When approached by the deputy, the suspect, 30-year-old David Kuffler of Sonora, was belligerent and tried to walk away, according to sheriff's spokesperson Sgt. Andrea Benson. She adds that the witness was able to positively identify Kuffler as the man seen damaging the office door and window, as pictures in the image box show.
Kuffler was subsequently taken into custody and charged with vandalism. Sgt. Benson notes that his blood alcohol level was determined to be at .15.