Trump: Empowering Veterans & Ending Veteran Suicide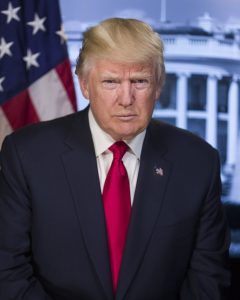 President Donald Trump

View Photos
Earlier this month, President Trump signed an Executive Order called a National Roadmap to Empower Veterans and End Veteran Suicide.
President Trump was Monday's KVML "Newsmaker of the Day". Here are his words, as spoken in the Roosevelt Room at the White House:
"We're here today to confront a solemn crisis that requires urgent national action. In a few moments, I will sign an executive order addressing one of our nation's most heartbreaking tragedies: veteran suicide.
Our mission is to mobilize every level of American society to save the lives of our great veterans and support our heroes in need.
Veteran suicide is a tragedy of staggering proportions. Hard to believe an average of 20 veterans and service members take their lives every single day. Who would believe that's possible? There are more than 6,000 veteran suicides per year. The suicide rate among veterans is 1.5 times greater than that for non-veteran adults, and the suicide rate for post-9/11 soldiers has increased significantly over the last ten-year period.
To every veteran: I want you to know that you have an entire nation of more than 300 million people behind you. You will never, ever be forgotten. We are with you all the way. I think you know that.
Supporting veterans is a very, very important thing to me. And it's been very important — from my campaign, from day one, and from before my campaign — but from day one.
Supporting veterans in distress is a critical priority for our entire administration — everybody in the administration. Last year, I signed into law the largest funding bill for the VA in its history, which included $8.6 billion for veterans in mental health services. I also signed an executive order directing the Department of Defense, Veteran Affairs, and Homeland Security to ensure our veterans have seamless access to mental health care and suicide prevention resources. These efforts focus on veterans the first year after they separate from military service when they are at the heightened-risk area.
The White House VA hotline has fielded more than 200,000 calls and successfully resolved 93 percent of the concerns our veterans brought to them. And they work very hard. It's been very, very effective.
We secured $206 million for VA suicide prevention programming. Every VA medical center now offers same-day emergency mental health care.
These are crucial steps, but unfortunately most veterans who die by suicide have not been in the care of the VA. Many of them don't know about the programs that we have or the programs that we've instituted. In fact, nearly 70 percent of those lost to suicide have not received care from the VA in the previous two years. They're just not aware of those great strides. They're just not aware. It's just not something that's on their mind.
This grave problem can only be solved if our entire country works together to build communities that truly serve, support, and protect our veterans from the first moment they return to civilian life. It's so different. They leave a military life and they go to civilian life, and it's just much different.
We must keep our promises to those who keep us free.
Through today's action, I am launching the PREVENTS Initiative — "The President's Roadmap to Empower Veterans and End the National Tragedy of Suicide". This order creates a new Cabinet-level task force co-chaired by Secretary Wilkie. The task force will create a comprehensive, national public health roadmap that brings together federal and local government, along with private sector partners, to improve the quality of life for our veterans and turn the tide on this terrible crisis.
We're being helped greatly by our strong economy. Our economy is very, very powerful and makes it a lot easier for people to get jobs, including veterans. And a lot of companies are actually giving priority, at our request, to veterans and they're very happy with the results.
The task force will be charged with developing a national research strategy so that we can more effectively identify, intervene, and help veterans during a time of need. By investing in research and scientific advances, we can better understand the trauma our brave soldiers face and how to restore their faith and their health.
Under this order, my administration will also work with Congress to pass legislation providing resources and assistance in the form of grants to communities so that they can empower veterans with critical information, services, and networks of total, total support. We're going to take care of our veterans. We're working so hard on this.
We're making so much progress and we're going to take care of them like never before. Veterans are America's greatest national treasure and a lot of people understand that; some people don't. I will tell you, our single-greatest national treasure. They kept us safe and we're going to keep them safe. They courageously fulfill their duties to our nation. Now we must fulfill our duties to them."
The "Newsmaker of the Day" is heard every weekday morning at 6:45, 7:45 and 8:45 on AM 1450 and FM 102.7 KVML.