Local Action Against Obesity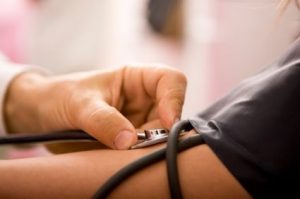 Health- blood pressure

View Photos
Sonora, CA — A survey of voters in rural California counties, including Tuolumne found that obesity is considered a major problem. Tuolumne County Public Health Officer Dr. Todd Stolp says the survey showed strong support for community action to prevent obesity and related chronic diseases. 150 Tuolumne County voters were surveyed, and 94 percent described obesity as a "serious problem". Roughly 84 percent agree that the neighborhood where people live affect their risk for obesity.
Nearly 60 percent of adults and 30 percent of youth living in Tuolumne County are considered overweight or obese. Soda and other sugary drinks were identified as a major factor in becoming overweight and obese, developing Type 2 diabetes, high blood pressure and heart disease.
Dr. Stolp says "Our communities are designed for automobiles, not shoes, and we want to change that. We want people to be inclined to walk to the store and take advantage of the beautiful community that we live in so they can exercise. That will make all the difference in the world with chronic illnesses." Dr. Stolp noted, "This why one of the partners we are working with is the community resources agency and you will be hearing some options that we have to consider relation to the general plan for the county." Options include parks, paths and landscaping.
Other ideas such as improving access to fresh drinking water in parks, schools, and public buildings were supported by those in the poll. Also supported was strengthening school nutrition standards to limit the sale of unhealthy foods and drinks.
Dr. Stolp says, "We are working closely with local schools, organizations, businesses and other leaders to move closer to our goal of creating a healthier community."
The survey was funded by the CA4Health project. The project CA4Health and aims at improving the health and well being of those living and working here. It is focused on four areas: Decreasing sugar consumption, Decreasing tobacco use and second hand smoke exposure (both higher in Tuolumne County than in the rest of the state), Supporting the Walk to School Initiative to create safer and more appealing paths, and determining the need and number of Community Health Workers for the area. Community Health Workers guide people on how to monitor and manage medical conditions, encourage people to be physically active and eat healthier, and teach people how to confidently take their medication properly.
Tuolumne County public health was awarded the Community Transformation Grant due to the need and partnerships it has with local agencies as part of the Affordable Health Care Act in 2011 for $1.2 million distrubuted over five years.