Inmate Population Cap Challenge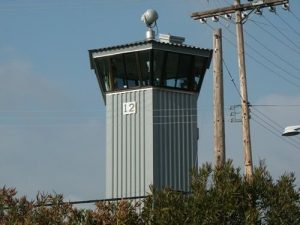 Sierra Conservation Center

View Photos
Sacramento, CA – The Associated Press reports Governor Jerry Brown is challenging a federal court order mandating California further reduce its inmate population to improve prison conditions. Brown wants to end a 6-year-old program that has sent thousands of California inmates to private prisons in other states. But the AP says he may not get the chance unless he can persuade federal judges to revise a court order that limits the number of inmates the state can hold.

In January 2010, a three judge court panel ordered the state to reduce the inmate population of its 33 adult prisons. The order was affirmed by the U.S. Supreme Court in May 2011. As a result, the state is mandated to lower its prison population by approximately 30,000 inmates by June 27, 2013.
Brown now contends complying with the court's June deadline for lowering the prison population would endanger public safety and wants to overturn the population cap.
"After decades of judicial intervention in our correctional system and the expenditure of billions of taxpayer dollars, the time has come to restore California's rightful control of its prison system," said Governor Brown.
The AP says the cap was imposed in 2009 after federal judges blamed crowding for causing conditions so dismal that they violated inmates' constitutional rights.
"California's prison health care system is now a model for the nation," said CDCR Secretary Jeff Beard. "Independent expert reviews have found that California's prison medical and mental health care systems meet constitutional standards. It would be both unnecessary and unsafe for the courts to order further inmate reductions."
The Governor's office says since 2006, the inmate population in the state's 33 prisons has been reduced by over 43,000 and overcrowding is down from more than 200 percent to just below 150 percent. They say more than half of the population decline has happened since October 1, 2011, as a result of the AB 109 Public Safety Realignment.
Brown says lowering the prison population beyond this point, as ordered by the court, would require rewriting, or disregarding, the California Constitution and numerous state laws that limit the early release of prisoners. He says the result would be shorter sentences for inmates incarcerated for serious and violent offenses, increased burdens on counties, and expanded use of contract facilities at considerable cost to the taxpayers.
Brown has signed a proclamation ending the prison overcrowding emergency that has been in place since 2006. He is calling for the return of the nearly 9,000 inmates to California over the next four years to save the state roughly $300 million annually.