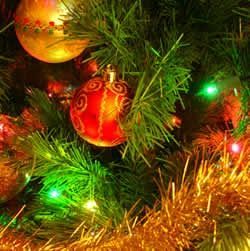 Christmas Tree Lights

View Photos
The holidays are over. Time to take down all those decorations, but what do you do with all those wrappings? Both Tuolumne and Calaveras Counties offer locations to discard your Christmas trash. When it comes to your tree, just make sure you take off all the tinsel, decorations and tree stands.
In Tuolumne County trees can be dropped off at the Earth Facility on Camage Avenue in Sonora the entire month of January. Click here for a map. They also offer curbside pick up for the elderly until January 11th. Just call the Waste Management office at 209-532-1413 to schedule a pick up.
In Calaveras County, you can take your tree to any of these facilities below, free of charge.
Rock Creek Solid Waste Facility
12021 Hunt Road, near Milton
Open daily 8:00 – 4:30 p.m.
Copperopolis Transfer Station
3831 O'Byrnes Ferry Road
Open Friday-Monday 9:00-5:30 p.m.
Wilseyville Transfer Station
End of Blizzard Mine Road
Open Friday-Monday 9:00-5:30 p.m.
SEI Solid Waste, Inc.
1149 Dunbar Road
Open Monday-Friday 8:00-4:00 p.m.

Red Hill Transfer Station
4314 Red Hill Road
Open Friday-Monday 9:00-5:30 p.m.
Gambi Disposal
968 Church Hill Road, San Andreas
Open Friday-Monday 9:00-5:30 p.m.
*Trees will be accepted between December 29 through January 14
Calaveras Disposal and SEI Solid Waste also provide curbside collection from December 31st through January 14th at no additional charge. They remind customers to recycle their wrapping paper and Christmas cards excluding all foil, tissue or musical cards.