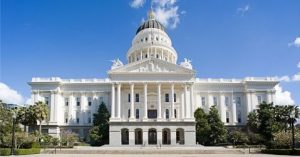 California State Capitol

View Photos
Sacramento, CA — Governor Jerry Brown signed nearly 900 bills into law in 2012.
Below is a list of some of the new laws Californians will face in 2013:


Homeowners will have increased protections from foreclosure.


Parents will have an additional hurdle to jump if they choose not to vaccinate their children.


Students are required to learn about the contributions of gays and lesbians to the development of the United States. The mandatory class is the first of its kind in the nation.


Employers will no longer be able to use consumer credit reports when hiring.
Students will be required to get medical clearance to return to a sport if they got a possible concussion while playing that sport.


A Chinese delicacy is banned as it will now be illegal to sell or distribute shark fins.
Caffeinated beer is illegal.


Tanning beds cannot be used by anyone under 18.


Minors must have a prescription to buy any drug containing destromethorphan which is used in many over-the-counter cough medicines like Robitussin, NyQuil and Dimetapp.


Women can now take up to four months' pregnancy disability leave.
Most of these laws take effect today. Also, California will study whether to create the nation's first state-administered retirement savings program for private-sector workers. However, additional legislation will be needed for that program to be implemented.