Celtic Faire A Go Despite Storm Damage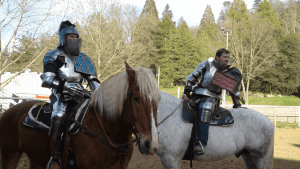 2017 Sonora Celtic Faire

View Photos
Sonora, CA – The recent flash flooding in Sonora caused some damage to the water system at the Mother Lode Fairgrounds prompting health concerns and the possible cancellation of this weekend's Celtic Faire.
Friday evening, Tuolumne County Environmental Health Director Rob Kostlivy announced that the event was a go as preventative measures have been put in place. Kostlivy relayed that a waterline ruptured was discovered at the fairgrounds, stating, "Due to the possibility of contamination, the Environmental Health Division has directed that the event not use the public water system until repairs can be accomplished and public safety can be assured."
Additionally, Kostlivy shares that the fairground administration, food vendors and campers have been notified of the problem. He added, "The Environmental Health Division has given the procedures to the administration and vendors for disinfection techniques."
Kostlivy also notes that to promote good hand hygiene during the event, hand sanitizing stations have been set up in the venue at various locations for fair goers to use.