Tuolumne County Spending Slightly Over Budget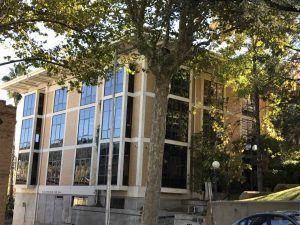 Tuolumne County Government Building

View Photos
Sonora, CA — Due to some unforeseen circumstances, the Tuolumne County Board of Supervisors voted to take $32,000 from contingency funding to balance the budget that runs through the end of June.
In a report given to the board this morning, it was learned that some areas are coming in under budget, while others are over. For example, the report by CAO Tracie Riggs noted there are $37,000 in additional expenses related to having two new supervisors join the board because of deferred compensation, employee group insurance, training, travel, etc. $58,000 in Donnell Fire expenses were denied for funding by CAL OES from the Disaster Assistance Act.  It was for things like overtime for deputies. Some of those expenses were transferred over to the Office of Emergency Services.
The County Counsel's office needs $72,000 for outside attorneys in response to the lawsuit filed against the General Plan Update. Office of Revenue and Recovery requires $32,000 in additional money for professional services. $116,283 is needed in relation to the hiring of a new General Services Director. $136,000 is needed for Informational Technology for high profile technology projects. There were also unexpected changes in cafeteria medical expenses, but it was noted that they are being offset by having unfilled county positions.
The board also reviewed and approved multiple staffing adjustments requested by department heads. For example, CRA Director David Gonzalves noted that there is an increase in requests for things like building permits, requiring additional staffing. District Attorney Laura Krieg, however, expressed displeasure that not all of the department heads had the opportunity to request additional staffing at this time.
The final vote on the various budget adjustments was 4-1, with Supervisor Anaiah Kirk in opposition. He noted that his opposition was related to making changes in staffing at this time, in relation to Krieg's comments.
After taking the $32,108 from the contingencies, the county's reserve funding is now estimated to be $718,057.
More budget challenges are anticipated next year. When asked, Tuolumne County Clerk and Auditor Controller Debi Bautista noted, "We have new expenditures for PERS, and for the General Fund alone, I think that is about $700,000. We have the cafeteria changes we have to look at. We have all of the cost of living adjustments that we have given our employees going into effect…plus we'll have more employees affected by the compensation study…so, we're going to have a tough year, next year."
We reported earlier that the 2018/19 General Fund budget is around $74-million and the overall spending is over $230-million.
Some other items still being monitored over the coming months include how the TOT and Sales Tax revenues will come in, following the Donnell and Ferguson fires, the impact of the PG&E bankruptcy on local government payments, and Governor Gavin Newsom's proposal to link SB1 transportation funds to increasing affordable housing.