Embattled PG&E Edges Towards Taking Responsibility for Camp Fire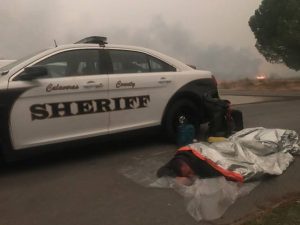 Calaveras County deputy among the responders catches a quick rest in between helping the Butte County Camp Fire efforts Nov 8 2018

View Photos
Sacramento, CA — PG&E is admitting that its equipment "probably" ignited the deadly wildfire that killed 86 people and decimated a Sierra Nevada town.
The utility company, which filed for bankruptcy protection in January, said Thursday that it is taking a $10.5 billion charge for related claims in its fourth quarter earnings. It also recorded a new $1 billion charge related to 2017 wildfires in Northern California with management officials noting that under the circumstances there is "substantial doubt about PG&E Corporation's and the Utility's ability to continue as going concerns."
While the cause of the Camp Fire is still under investigation, firefighters pinpointed the location of the fire's origin to an area near a PG&E Caribou-Palermo transmission line tower. The blaze destroyed 14,000 homes in and around the town of Paradise, which had a population of roughly 27,000 people.
In an official release utility officials stated, "Based on the information currently known to the company and reported to the California Public Utilities Commission (CPUC) and other agencies, the company believes it is probable that its equipment will be determined to be an ignition point of the 2018 Camp Fire."
Two Possible PG&E Related Ignition Points
The Caribou-Palermo line has been out of service since mid-December when the fire occurred due to equipment still needing replacement or repair. PG&E also indicated an outage and downed wires within the Big Bend area on the morning of the fire that fire officials identified as another potential ignition point. However, PG&E stated it was unsure if issues occurring there could have sparked the fire.
"We recognize that more must be done to adapt to and address the increasing threat of wildfires and extreme weather in order to keep our customers and communities safe," stated Interim PG&E CEO John Simon.
He added, "We are taking action now on important safety and maintenance measures identified through our accelerated and enhanced safety inspections and will continue to keep our regulators, customers and investors informed of our efforts."
As reported here, some of those extended measures are rolling out in portions of Tuolumne County due to acknowledged increased fire risk in those areas.