Butte Fire Recovery Documentation Could Cost Calaveras Over $1-Million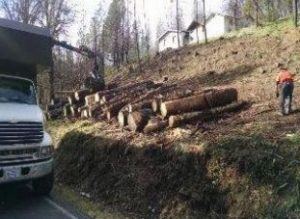 Tree removal

View Photos
San Andreas, CA — Some of the federal dollars Calaveras County received in the aftermath of the Butte Fire, while under a federal disaster declaration, will likely have to be returned to FEMA.
The county is preparing for an audit by the Inspector General in relation to funding received from the feds to remove dead and dying trees. The money has already been spent.
At this week's supervisors meeting, Auditor-Controller Rebecca Callen stated, "I've said all along that documentation is really our responsibility as a county, and I do know that there were times where proper documentation didn't happen….There will be dis-allowances by the OIG. I would estimate that it is probably going to be a million dollars, if not a little bit more, and that's just the reality."
She further elaborated, "If we can't find the time records, if we didn't do the proper federal procurement requirements, if we didn't take the pictures appropriately, if we didn't geotag every single tree that was removed, or didn't document where the debris went, those are all going to be pain points."
The county's Office of Emergency Services is working to create a better, and more detailed, plan, moving forward, to document the spending. Callen added, "Part of the issue that we've had historically is that there has been a lack of county wide training. When the emergency (Butte Fire) happened, three quarters of the people didn't know where the emergency operations plan was, and the quarter that did know, were not familiar with it."
The roughly $1-million in revenue, which the county will likely owe FEMA, is expected to come out of the $24-million Butte Fire settlement that was agreed upon between Calaveras County and PG&E.