Heavy Snow Fall A Challenge For Forest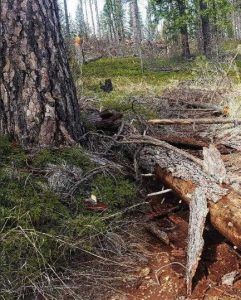 Fallen tree on the Stanislaus National Forest

View Photos
Sonora, CA – The windy and wet storms wreaked some havoc on the Stanislaus National Forest, especially on the conifers.
Forest Supervisor Jason Kuiken details just how much snow fell, stating, "At the of Dodge Ridge they had 87 inches over the three day period, which brings them very close to 300 inches on the year,  the most in a while."
While Yosemite National Park got hit hard by the systems, as reported here yesterday, with trees crashing down and damaging buildings and causing power outages that left around 150 staff homeless, Kuiken says the forest fared better. "We have not heard of any of our buildings collapsing, but with the next snow fall everyone should take care of what they have on their roof and really try to mind that," advised Kuiken.
The forest did not go unscathed, though, as Kuiken relays they did have issues similar to the parks, specifically regarding trees. "A number of hazard and live trees have fallen down in the storm. The soils are really saturated at lower elevations and the added weight of snow at the higher elevations is causing a number of trees to fall." He went on to warn, "Visitors should be cautious while enjoying the out of doors at this time."
Although the power went off at the Groveland office for a couple of days, the electricity was restored Thursday night.