McClintock Questions Whitaker About Alleged Disparity In FBI Investigations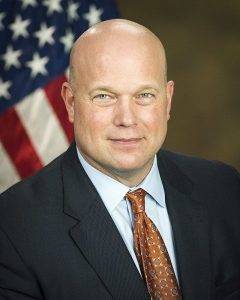 Acting Attorney General Matthew Whitaker

View Photos
Washington, DC — Mother Lode Republican Congressman Tom McClintock was among those that asked pointed questions to Acting Attorney General Matthew Whitaker during a House Judiciary Committee meeting this morning.
McClintock indicated to Whitaker that he has been reading a book authored by Fox News analyst Gregg Jarrett entitled, "The Russia Hoax." McClintock says it lays out instances of political bias within the FBI, illegal conduct, destruction of evidence and perjury.
McClintock questioned, "Can we expect a full, complete and aggressive investigation of charges of wrongdoing by officials in the FBI and the Department of Justice on these matters?" Whitaker responded, "Congressman, I can assure you that any allegation of misconduct by an employee of the department of justice will be looked into thoroughly."
McClintock also referenced former IRS employee Lois Lerner, who was in the middle of a controversy where conservative groups argued that they were improperly targeted by the IRS related to tax exemption applications. McClintock asked why no action was taken. Whitaker responded that he was a private citizen when the Lois Lerner allegations surfaced, and added that former Attorney General Jeff Sessions had reviewed the matter after taking office.
McClintock also questioned why Democratic US Senator Bob Menendez was allowed to "quietly turn himself in" during an FBI corruption investigation, but President Trump supporter Roger Stone was taken into custody during a predawn raid that included 29 armed combat officers. McClintock argued that it was merely a political act to scare people from working with the Trump campaign in the future.
Whitaker responded, "Congressman, this is a very serious situation that you raise, but just know that the FBI makes arrests in a manner most likely to ensure the safety of its agents and the person being arrested."
Pressing further, McClintock asked again about the disparity between Menendez and Stone, and Whitaker then promised to address it later during a closed session, because talking in public could put other FBI agents doing other investigations in harm's way.
During the hearing, Democrats focused many questions on the Mueller investigation into Russian interference in the 2016 election. Whitaker declined to answer most of those questions, citing that it is an ongoing investigation.