Students Impress During Mock Trial Competition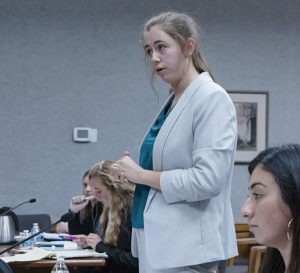 Melissa Cabral argues a point while Alexia Saucedo and Summerville attorneys listen

View Photos
Sonora, CA — Tuolumne County students from Summerville and Don Pedro high schools gained firsthand knowledge of the criminal justice system by taking part in a mock trial event in front of two local superior court judges.
During the competition the students acted in the roles of attorneys, bailiffs, clerks and witnesses in the case of People v. Klein. Each team had the opportunity to argue as both the prosecution and the defense. Similar events took place across the state, and the mock trial case was created by the Constitutional Rights Foundation. It involved a young adult, Regan Klein, who was charged with both making a false report of an emergency and making a criminal threat via an online post. During the pretrial argument portion, the students argued whether the post was a true threat, and they then adjusted their case based on the ruling of the judge. Teams then provided evidence, called witnesses to the stand, examined and cross examined witnesses, and offered opening and closing arguments.
The mock trials were held in Departments 3 and 4 of Tuolumne County Superior Court, and were presided over by Judge Kate Powell-Segerstrom and Judge Kevin Seibert.
Judge Powell-Segerstrom reflected, "The degree of preparedness and confidence shown by the student attorneys was astounding, especially with such a difficult body of evidence in the case."
Judge Siebert added, "I am impressed that the students were willing to take the risk to put themselves out there in this high-pressure environment. It is important that students have a first-hand look at the justice system, and they are going to remember this experience."
District Attorney Laura Krieg added, "I'm excited we were able to make this program work locally.  I was so impressed with all of the students.  They were all extraordinarily prepared and performed at a level worthy of students in law school."
The Don Pedro team was coached by Sheri Gempler, and the participating students were Billy Adams, Kai Ayers, Jacob Beyers, Kaitlyn Bispo, Melissa Cabral, Emma Castillo, Alyssa Chandler, Kaylee Chandler, Heaven Davis, Breanna Durnal, Ketral Holt and Shelby Humphrey.
The Summerville team was led by Shane Patey and the participants were Haley Baldwin, Megan Bressel, Elias Britton, Grace Doyce, Nicholas Durden, ChyAnne Grotheer, Jaron Johnston, Cailyn Kiolbassa, Kaila Lloyd, Shiloh Lloyd, Alexis Longeway, Virginia Oellrich, Kent Patey, Camellia Schaner, Marie Schermeister, Kaitlyn Semsen and Chance Tillery.
The event was hosted by the Tuolumne County Superintendent of Schools Office.