State Announces New Sped Up Wildfire Management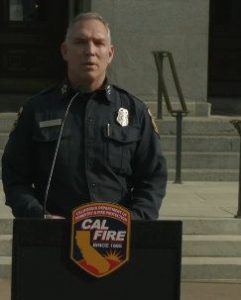 CAL Fire Director Thom Porter at press conference in Sacramento

View Photos
Sacramento, CA — Designed to protect communities from devastating wildfires as witnessed in the past several years, California wildland managers plan to speed up logging and prescribed burns in the state.
The wildfire prevention effort was announced Tuesday at a press conference in Sacramento that included new CAL Fire Director Thom Porter and Keith Gilless chair of the state board of forestry and fire protection. It's a reboot of a similar effort that officials scrapped 12 year ago. The new plan is to create a single environmental review process to cover vegetation reduction projects, fuel breaks and restoration projects.
Environmental groups are critical of the new approach noting that the focus should be on protecting homes from wind-driven embers. Porter counters that it needs to be a systematic approach and this is one aspect, "There is no one approach or one silver bullet that's going to fix the problem. The problem is in some cases a human and community problem and in other areas it's a lack of adaptiveness to forest ecosystems that have evolved for thousands of years with fire. We've kept fire out of them, so what we're doing is we're bringing back active management in areas that need some healthy forest treatment."
The plan is to complete the new version of review in the next year with the aim of doubling the state's forest management efforts to a half-million acres of non-federal land each year. It is a goal originally set by former Governor Jerry Brown. In recent months, President Donald Trump has criticized California officials for not doing a good enough job managing forests.